Deep Purple Family Tree
Deep Purple is one of the greatest hard rock bands in history. Since they started, they have been popular with countless fans, and have influenced many other hard rock and heavy metal bands who came along later.

In their over-40-year history, Deep Purple has seen many of its members come and go, some coming back, while others carried on in different bands. In this website, I will try to trace the history of these hard rock legends, as well as the history of the various members of the band, and other bands in which they were involved.

The best place to start is at the very beginning.



Deep Purple Mark 1 - March, 1968 - July, 1969>



Deep Purple began its career in Hertford, England, as "The Roundabouts." This was a name chosen by their managers; the band members never agreed to it. They chose the name "Deep Purple" after guitarist/group leader Ritchie Blackmore said that the song "Deep Purple" by Bing Crosby was his grandmother's favorite song.
The original lineup of Deep Purple was as follows:

Rod Evams - Vocals
Ritchie Blackmore - Guitar
Nick Simper - Bass
Jon Lord - Keyboards
Ian Paice - Drums

The group toured briefly in Denmark before returning to England to record their debut album, "Shades of Deep Purple." This record included such tunes as "And the address" and "Mandrake Root" as well as a cover of the Beatles' "Help", Jimi Hendrix' "Hey Joe", and a jumping pop tune called "Hush", written by singer/songwriter Joe South, who would later become famous for writing the country classic "Rose Garden."
This lineup's second recording was 1969's "Book of Taliesyn." This recording featured the original tunes "Hard Road - Wring that Neck", and "Listen,Learn, Read On." It also featured a cover of the Beatles' "We Can Work it Out" preceded by a Ritchie Blackmore original instrumental composition called "Exposition." The album also included a cover of "River Deep, Mountain High" by Phil Spector, which had recently been a hit for Ike & Tina Turner, and a recording of Neil Diamond's "Kentucky Woman", which becae a top-10 Billboard hit.

The third album from the Mk. 1 lineup, 1969's "Deep Purple" featured no covers. The album featured such tunes as "Why Didn't Rosemary", "The Bird has Flown" and "The Painter." However, the main group members, guitarist Ritchie Blackmore, who wanted a heavier, guitar-based rock sound, and keyboardist Jon Lord, who was looking for a fusion of classical and rock, both agreed that Evans and Simper were not going to take the group in either direction, so both members were dismissed following the recording of this album.
Deep Purple Mark 2 - July, 1969 - June, 1973

After the departure of Evans and Simper, the remaining members of Deep Purple continued by reaching into the British pop/rock band Episode Six and recruiting their singer, Ian Gillan, and their bass player, Roger Glover. The new lineup consisted of:

Ian Gillan - Vocals
Ritchie Blackmore - Guitar
Roger Glover - Bass
Jon Lord - Keyboards
Ian Paice - Drums

This lineup's first album,1969's Concerto for Group and Orchestra, was mostly written by Jon Lord, who was still experimenting with a classical/rock fusion style. This album essentially was for hard-core Purple fans only, and did not sell well at all.
In 1970, with the next album, Deep Purple in Rock, Blackmore took charge. This record combined his hard-driving guitar riffs with Gillan's screaming vocals on tracks such as "Speed King" and "Bloodsucker." The greatest track on this album, however, was a 10-minute epic, "Child in Time" that featured Lord's classical keyboard style combined with hard-driving Blackmore guitar riffs and Gillan's hard, screaming vocals. This demonstrated this lineup's disctinctive sound. The fans went wild!
In 1971, the band continued their hard-rock attack with the Fireball album. The title track led off with Blackmore and Gillan both at full throttle. Other tracks from this album included "Anyone's Daughter", the instrumental "The Mule" and the hit single "Strange Kind of Woman."
After Fireball, the band issued a single, "Black Night", which became a fairly sizeable hit.
The band's next album, Machine Head, was to be recorded in Montreux, Switzerland, in December of 1971. The studio where they were to record it,The Casino, however, was burned to the ground during a performance by Frank Zappa's Mothers of Invention. When they finally recorded the album, which included such classics as "Highway Star" (the opener), the blues-influenced "Lazy", and "Space Truckin'", they needed one more song for the session to be complete. Blackmore had already come up with the soon-to-be-famous riff, and Gillan took the recent experience and wrote the lyrics. "Smoke on the Water", which the band considered an "extra track", and which wasn't released as a single for another year, ended up becoming their biggest hit, and one of the top classic rock songs of all time. It helped push "Machine Head" to the top of the album charts, and put it, with Black Sabbath's Paranoid album and Led Zeppelin's untitled fourth album, in "The Holy Trinity" of British rock albums.
Following the release of Machine Head, the band undertook a major world tour. During this tour,in August,1972, they recorded several of their shows in Japan, and, following the tour, released the double-live album Made in Japan. This record displayed Purple's habit of playing long extended versions of their songs in concert, with the live version of "Lazy" lasting over ten minutes, and the live recording of "Space Truckin'", which closed the album, lasting almost twenty minutes. Made in Japan is considered one great classic "live" albums of all time, along with One More From the Road by Lynyrd Skynyrd, and Peter Frampton's Frampton Comes Alive.
In January, 1973, Purple released the studio follow-up to Machine Head. Anybody with half an ear could tell something wasn't right. The lead-off track, "Woman from Tokyo" rocked, and became one of their well-known hits. The rest of the album, however, sounded like a tired band recording because they "had to", not because they "wanted to." Solos by Blackmore and Lord were extremely mediocre, and, listening to Gillan's voice, one could tell that his heart wasn't in it. Musically, Blackmore and Gillan were a great match. Personally, they couldn't stand each other. Both were strong and stubborn, and, unfortunately, each had ideas of how he wanted the group to be, and those ideas would not work together. The nonstop touring had taken its effect on Gillan's voice, and at the end of June, 1973, he left Purple. Roger Glover, who also had problems getting along with Blackmore, left at the same time. One of the greatest British hard-rock bands of the early 1970's, it seemed, was no more.


Deep Purple Mark 3 - July, 1973 - - April, 1975

Following the departures of Gillan and Glover, the original three members of Deep Purple decided to carry on with new performers. First, they hired Glenn Hughes, the vocalist and bassist for British band Trapeze. Then they placed an advertisement in a British music magazine. One of the respondents to the ad was a young record-store clerk by the name of David Coverdale, and he was picked as their new vocalist. Purple's lineup now consisted of:

David Coverdale - Vocals
Ritchie Blackmore - Guitar
Glenn Hughes - Bass/vocals
Jon Lord - Keyboards
Ian Paice - Drums

This lineup wrote and recorded the Burn album in late 1973, and showed that, even though many fans were disappointed over the departures of Gillan and Glover, reports of Purple's death were "greatly exaggerated." On six out of eight of the songs on this album, David Coverdale traded lead vocal duties with bassist Glenn Hughes (the exceptions being the power ballad "Mistreated", which Coverdale sang alone, and the instrumental "A 200.") The title track was considered one of Purple's great lead-off songs, and "Might Just Take Your Life" featured a great keyboard intro by Jon Lord. "Lay Down, Stay Down" and "Sail Away" showed that Deep Purple was still a force to be reckoned with.
The Mark 3 lineup continued in August, 1974, by releasing the Stormbringer album. This album, while not as good as Burn, still features some classics. The title track is considered a "goth-metal" classic, and "Lady Double Dealer", "High ball Shooter" and "Soldier of Fortune" are also considered Purple classics. But the other songs, as well as some of the numbers on Burn, showed that Coverdale and Hughes were taking the band in a more "funk" direction, which did not please Blackmore at all. Blackmore, by this time tired of all the personnel changes in Deep Purple, decided to try an entirely new band. He left Deep Purple in April, 1975, after his final three live gigs were recorded for the 1976 release Made in Europe. Along with American vocalist Ronnie James Dio, of the group Elf, he formed Ritchie Blackmore's Rainbow.


Deep Purple Mark 4 - April, 1975 - July, 1976

Ritchie Blackmore had always essentially been the leader of Deep Purple, and with his departure, there was some debate as to whether Puprle should continue. Lord and Paice thought it was time to "call it a day", but Coverdale and Hughes managed to convince them that, with the right guitarist, they could make Purple work. Their choice was American guitarist Tommy Bolin, who had been in the James Gang and was now working on a solo career. With his addition, the Mark 4 lineup came together, with the following members:

David Coverdale - Vocals
Tommy Bolin - Guitar
Glenn Hughes - Bass/vocals
Jon Lord - Keyboards
Ian Paice - Drums

The Mark 4 lineup came together during the spring of 1975. They recorded their first (and, it turned out, only) studio album, Come Taste the Band in August of that year, and it was released in September. It was a fairly decent album, but it didn't have any "instant classics" like "Burn", "Smoke on the Water", or "Highway Star." The tracks on Come Taste the Band included "Lady Luck", "Gettin' Tighter", and "Dealer.", as well as an instrumental called "This Time Around/Owed to G." They spent the next several months touring America, the Far East, and Australia. When they hired Bolin, the rest of Deep Purple was unaware that he had a serious addiction to heroin. This resulted in erratic performances during the tour. On a later release, Last Concert in Japan, his playing is really off the mark, especially on his performance of Wild Dogs, a hit from his first solo album, Teaser. Appparently he had no feeling in his fretboard hand. Glenn Hughes was also having difficulties with substance abuse, and the patience of the other three members was wearing thin. They finished their tour with five shows in England in March, 1976. During one of those shows, Hughes walked offstage before the end of the show, and Lord practically had to pull him back on for the encore. The final show was in Liverpool, the famous hometown of the Beatles, on March 15. Five minutes after the show was over, Coverdale walked into Lord's and Paice's dressing room and announced he was quitting. Paice and Lord had already decided to quit, so that was seen as the effective end of Deep Purple. They issued a press release in July, 1976, making it official.
David Coverdale began work on his first solo album, White Snake, released in 1977. Lord and Paice joined British rock vocalist Tony Ashton in the short-lived group Paice, Lord and Ashton. Glenn Hughes briefly re-formed Trapeze, then started working on solo projects. Tommy Bolin issued his second solo albu, Private Eyes, and briefly toured opening for Jeff Beck, before dying of a heroin overdose in December, 1976.


The "bogus" Deep Purple reunion - 1980
In the summer of 1980, rumors started to circulate that Deep Purple had reformed and were playing gigs in Mexico. Then a date was set for a full-fledged Deep Purple reunion concert at the Long Beach Arena in Los Angeles. Tickets sold out quickly and fans old and new eagerly anticipated the show.
One small problem - it wasn't a real reunion. The band playing as "Deep Purple" actually consisted of original vocalist Rod Evans backed by several unknown session musicians. This band didn't even perform any of Evans' songs; the enbtire set consisted of songs from the Mark 2 and Mark 3 lineups. (Reportedly, Evans introduced "Might Just Take Your Life" as "a number from 'our' Burn album." Fans nearly rioted at the Long Beach Arena, and the real Deep Purple's management company sued Evans, won an injunction against his use of the name, and were awarded damages of $672,000.
Click here to read more about this "bogus Deep Purple."


The Real Reunion - Deep Purple Mark 2, Phase 2 - 1984 - 1989
Late in 1984, it finally happened. Not only did the real Deep Purple reunite, they did so with the classic Mark 2 lineup. Vocalist Ian Gillan had been fronting Black Sabbath, guitarist Ritchie Blackmore and bass player Roger Glover had been in Rainbow, Jon Lord had been playing keyboards with ex-Purple vocalist David Coverdale's band Whitesnake, and Ian Paice had been keeping the time for former Thin Lizzy guitarist Gary Moore. They all decided that it was time to give Deep Purple another try. The result was the album Perfect Strangers, and a sold-out world-wide stadium tour. Perfect Strangers included the title cut, "Knocking at your Back Door", "Hungry Daze" (with lyrics referring to "Smoke on the Water"- "We all went out to Montreux, but that's another song."
The Mark 2 reunion carried on with the 1987 release of "House of the Blue Light." This album, while not ast strong as Perfect Strangers, did include some good tunes. Among them were "Bad Attitude", "Spanish Archer" and "Mitzi Dupree", a song Gillan wrote about his encounter with a female airline passenger that had happened while he was touring with Black Sabbath. The band began a tour to support House of the Blue Light, but it was cut short when Blackmore broke his finger. Taking tapes from the tour, Glover and Gillan produced the live album Nobody's Perfect. They also recorded a duet project called Accidentally on Purpose. Then in 1989, the Mark 2 lineup collapsed again.
As in the early 1970's, Gillan and Blackmore still had different ideas for the band, and the personality conflicts had escalated to the point where Blackmore finally fired Gillan. The other members of the band weren't happy about this, but they respect Blackmore's position as the band's leader, and decided to continue on without Gillan. Gillan also continued on without Purple.
Deep Purple Mark 5 (aka Deep Rainbow) - 1989 - 1991

With Gillan out of Deep Purple, Blackmore started looking for a replacement. He picked Joe Lynn Turner, who had been a vocalist with his band Rainbow. This created the Mark 5 lineup, consisting of:
Joe Lynn turner - Vocals
Ritchie Blackmore - Guitar
Roger Glover - Bass
Jon Lord - Keyboards
Ian Paice - Drums

The other band members didn't like the idea - Glover, Lord and Paice felt that they were essentially reforming Rainbow. When the resulting album Slaves and Masters was issued in 1990, it seemed to prove their point. The album sounded very much like latter-day Rainbow, and critics noticed it, too. They referred to the Mark 5 lineup as "Deep Rainbow." This lineup toured, and, although Turner and Blackmore had wanted to play some Rainbow classics too, the others wouldn't go along with it. (On a few dates, Blackmore played his "Difficult to Cure" guitar solo, which was a rock re-hashing of Beethoven's Ode to Joy.) One of the tour's highlights was that Turner agreed to perform the Mark 3 hit "Burn", which Gillan had refused to do. Turner further angered hard-core Deep Purple fans by resonding, when someone in a crowd would yell for Gillan, "Don't bring up the dead."
When the album and tour both failed to generate much interest, Blackmore finally gave in to the pressure from the others, dismissed Turner, and brought Gillan back.


The next Reunion: Deep Purple Mark 2, Phase 3 (1992 - 1993)
With Gillan's return, most of the band was happy, except for Blackmore. While this lineup's next (and final) album, The Battle Rages On, was being recorded, a battle truly was raging. One time when Gillan complained about difficulty singing one of Blackmore's compositions, Blackmore snapped back that he had written the song with Joe Lynn Turner in mind. When the album was finished, the band started outon tour, recording several shows for what became their 1994 live album, Hell or High Water. After these shows were recorded, Blackmore once again exited the group, although they were in the midst of a tour.
Deep Purple Mark 6 - The "Temporary" Purple (1993-1994)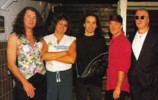 Blackmore left Deep Purple while they were in the midst of their "Battle Rages On" tour. The remaining members decided to ask legendary guitar virtuoso Joe Satriani to join the band. However, Satriani turned them down, preferring to continue with his (quite successful) solo career. He had long been an admirer of Deep Purple, and had considered Blackmore one of his major influences, so he finally agreed to join with the understanding that he was a temporary replacement for Blackmore so that the band could fulfill its tour commitments. Purple's lineup now consisted of:

Ian Gillan - Vocals
Joe Satriani - Guitar
Roger Glover - Bass
Jon Lord - Keyboards
Ian Paice - Drums

During rehearsals before going back on the road, Glover suggested playing "Smoke on the Water." Gillan started to object, saying that, like most guitarists, Satriani probably could play the "Smoke" riffs in his sleep. But Satriani interrupted Gillan by saying that, although he had played "Smoke" many times, he would consider it an honor to play it with the group that originated it. Satriani filled Blackmore's shoes for the rest of the tour, and performed very well. No "official" live recordings exist of this lineup, probably because of recording contract limitations, but fans that saw this lineup were delighted with it, and quite disappointed when Satriani departed at the end of the tour.
Deep Purple Mark 7 (1994-2002)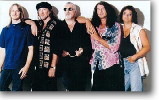 After Satriani returned to his solo career, the band decided it needed another top-notch lead guitarist. All four of the remaining members wrote lists of their choices for a new six-stringer. Only one name made all four lists - that of Canadian guitarist Steve Morse. Morse had been a founder of The Dixie Dregs in the early 1970's; since the early 1980's he had fronted The Steve Morse Band, while also slinging the axe for Kansas. He was invited to join Purple in 1994. Deep Purple's lineup now consisted of the following members:

Ian Gillan - Vocals
Steve Morse - Guitar
Roger Glover - Bass
Jon Lord - Keyboards
Ian Paice - Drums

With Morse now on lead guitar, the revitalized Deep Purple entered the studio to record Purpendicular. Morse's style led Purple into expanded musical territory, with such songs as "The Aviator", "Hey Ciso", and "Rosa's Cantina." "A Touch Away" is displayed as Purple's first real ballad, and Gillan shows he can still handle his screaming hard-rock vocal duties on "Ted the Mechanic" and "Sometimes I Feel like Screaming."
Also, from 1994-1997 several live albums were released, starting with the aforementioned "Come Hell or High Water." This was followed by an import CD called "Live in 85" recorded on the Perfect Strangers reunion tour. 1996 saw the release of a King Biscuit concert by the Mark IV lineup, then in 1997 came "Live at the Olympic 1996", a live CD recorded on the Purpendicular tour, featuring both classic Purple songs and songs from Purpendicular.
Their next studio album was 1998's Abandon. This CD rocked harder than any recent Deep Purple record. Steve Morse's influence, both in writing and in playing, showed more on this album than on Purpendicular. Tracks include "Any Fule No That", "seventh Heaven", and a re-recording of "Bloodsucker", originally recorded on the In Rock album in 1970.
Following Abandon, live recordings both old and new continued to emerge from various record labels. 1999 saw the release of "In London", and 2000 a CD/DVD called "At the Royal Albert Hall" was released, on which they performed with Ronnie James Dio, the rest of the Steve Morse Band, and the London Symphony Orchestra. 2000 also saw the release of Days May Come and Days May Go, featuring studio rehearsals and jams from the Mark IV lineup. The Mark IV lineup was featured again in 2001's "This Time Around: Live in Tokyo."
In 2002, Jon Lord, who had been working on classically-oriented solo prjects over his years with Deep Purple, decided to retire to devote his full attention to that part of his career.
Deep Purple Mark 8 (September, 2002 - Present)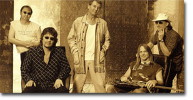 With the departure of founding member Jon Lord in 2002, Deep Purple carried on by hiring well-known rock keyboardist Don Airey, who had played with such Purple-related bands as Rainbow and Whitesnake, as well as with Ozzy Osbourne, Jethro Tull, and as a guest session musician for many others. With this change, the lineup now consisted of:

Ian Gillan - Vocals
Steve Morse - Guitar
Roger Glover - Bass
Don Airey - Keyboards
Ian Paice - Drums

In 2002, after Jon Lord retired to focus on a solo career of classical/rock fusion music, veteran keyboardist Don Airey entered the picture. Again, many hardcore Purple fans, as well as less-interested people, thought Purple was at an end. Jon Lord's keyboard style had always been a big part of Purple's instrumental arrangements, and, although Airey was known for his great skill, many questioned whether he could live up to the standard that Lord had with Purple.
Well, they decided to wait and see. They waited - and they saw. The album Bananas was a solid hard rocker, with the title track, as well as such numbers as "Silver Tongue", "Sun Goes Down", and "Doing it Tonight." Airey proved to be quite a good replacement for Lord. Lord had co-written two of the songs, "Picutres of Innocence" and "I Got Your Number" before his departure, but this album proved that Deep Purple was definitely a band that was greater than the sum of its parts.
Through the years, Deep Purple has been known for its outstanding in-concert performances, no matter which lineup recorded them. Purple's live performances have been legendary, and over the years they have released more live recordings than almost any other band. The time period since 2002 has been no exception. 2002 saw the release of "Royal Philharmonic Orchestra", which was a suite composed and arranged by Lord, and recorded with the Royal Philharmonic. This was followed, in 2003, by a live 1970 recording of Lord's Gemini Suite, originally performed for the BBC just after the 1969 recording Concerto for Group and Orchestra, and, again, composed mostly by Lord. Shortly thereafter, a 1974 Mark III recording, Live at the California Jam, was released. More live recordings followed in 2004, including Mark III- The Final Concerts, and The Best and Live, a collection of Mid-80's to Mid 90-s live and studio recordings.